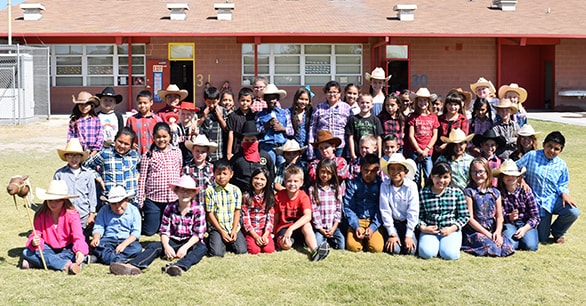 Welcome to the Home of the Cowkids
Willcox Elementary School (WES) is located in Willcox, Arizona, in the southeast corner of the state, and we are part of the greater Willcox Unified School District.
We have developed this website to keep our teachers, students, parents, and community informed about everything going on at WES. Please take time to browse the site and learn more about all WES has to offer. You will find that we are a special school with a great staff and students.
A Message from our Principal
Dear Willcox Cowkid Families,
Welcome to the 2021–2022 school year! The first day of school, August 9, will be here before we know it, but we are ready! We can't wait to see the smiles on their faces as our students return to fun, friends, and learning.
This year brings some exciting changes to our school. We already introduced our first-ever kindergarten Cowkids boot camp. Some of our new kindergarten students spent two weeks with their teachers, getting to know them, making new friends, and being introduced to life as a kindergartener! What fun we've had!
Meet your teacher night will be on August 5, from 5:00 until 7:00 p.m. This year we invite our Cowkid families to come along with us on the Cowkid trail, a fun experience where you'll learn all about our Cowkid expectations and support for our students.
We have several new teachers to introduce this year.
Joylene Pando, First Steps Preschool Teacher
Katie Hill, 1st-Grade Teacher
Marsha Davidson, 1st-Grade Teacher
Bernadette Martinez, 2nd-Grade Teacher
Jenny Pownall, 4th-Grade Teacher
Patricia Hill, P.E. Teacher
Melanie Williams, Special Education Resource Teacher
Hannah Cameron, Special Education Paraprofessional
Andrea Avalos, Special Education Paraprofessional
Jocelyn Allred, Music Teacher
Amanda Berger, Art Teacher
Erin Bowlby, WES Dean of Students
Welcome to these fantastic educators!
I am also excited to introduce myself as the dual principal at both Willcox Elementary and Willcox Middle Schools. With Mrs. Bowlby serving as the W.E.S. Dean of Students, I will divide my time between the two schools. You will continue to see a unique identity at each school but also a cohesive approach that allows teachers at grades Pre-K through 8th to work collaboratively for the benefit of all students. We are one team, one family. We are Willcox!
Thank you to all Cowkid families for your support of our students and our school. My door is open, and I invite you to call, email, or visit our school in person. I'm looking forward to seeing you all as we start this exciting new school year!
Sincerely,
Valerie Simon
Valerie Simon
Principal