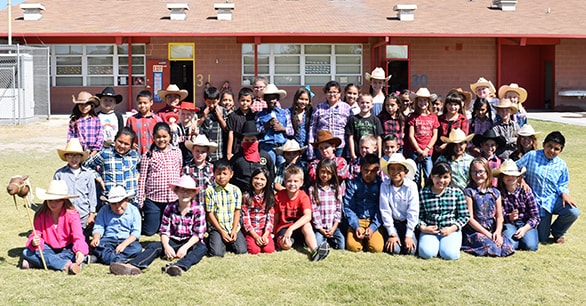 Welcome to the Home of the Cowkids
Willcox Elementary School (WES) is located in Willcox, Arizona, in the southeast corner of the state, and we are part of the greater Willcox Unified School District.
We have developed this website to keep our teachers, students, parents, and community informed about everything going on at WES. Please take time to browse the site and learn more about all WES has to offer. You will find that we are a special school with a great staff and students.
A Message from our Principal
Dear WES Cowkids and Families,
Welcome to the 2023–2024 school year! The first day of school is on August 14 and it will be here before we know it! We are ready for each Cowkid, and we cannot wait to see the smiles on their faces as they return to fun, friends, and learning.
Meet your teacher night will be on August 10 from 5:00 to 7:00 p.m. This year we invite our Cowkid families to come along with us on the Cowkid trail, a fun experience where you'll learn all about our Cowkid core values: We are safe, we are responsible, we are kind, and we are Willcox Cowkids!
My name is Erin Bowlby, and I am excited to continue to serve as principal for our wonderful elementary school that I have been a part of for the last 13 years. Willcox is my hometown, and I am thrilled to work with our staff and students to build ongoing learning and memories for our Cowkids. Here at Willcox Unified School District, our goal is: We are Willcox: Building a world class education.
We have several new staff members and new roles to introduce:
Aidan Tippens - Kindergarten Teacher
Angeliana Martinez - First Grade Teacher
Elena Whetten - Second Grade Teacher
Travis Beck - Third Grade Teacher
Andrea Avalos - Third Grade Teacher
Cyrena Allen - Paraprofessional and Computers Teacher
Karina Rodriguez - Paraprofessional and PE Teacher
Ashley Hedgecock - Exceptional Student Services (ESS) Teacher
Janelle Somoso - Exceptional Student Services (ESS) Teacher
William Bates - Behavior Monitor/PBIS CICO Coordinator
Anna Vega -Paraprofessional
Zaiden Cuevas - Paraprofessional
Cavey Powell - Paraprofessional
A big welcome to these fantastic educators!!
Thank you to all Cowkid families for your support of our students and our school. My door is open, and I invite you to call, email, or visit our school in person. We endeavor to make connections with every kid so that if they need anything, they can share their needs with the teachers and staff. If there are any student needs that we need to address, please reach out to us at the school. Teachers, staff, secretaries, and principal are all here to make sure our Cowkids have the best experience ever! I'm looking forward to seeing you all as we start this exciting new school year!
Enthusiastically,
Erin Bowlby
Erin Bowlby
Principal